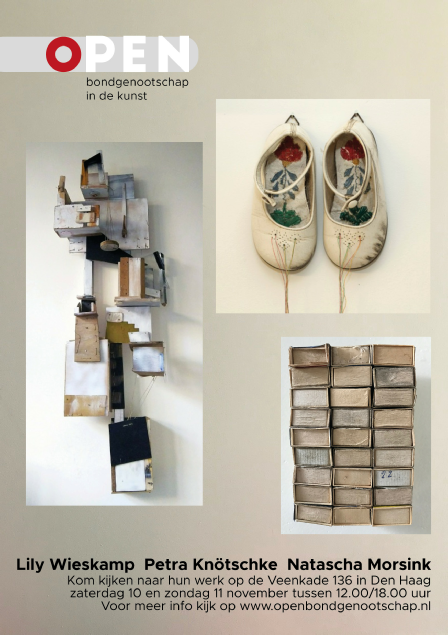 Er zijn tegenwoordig steeds meer kleinschalige kunstruimtes in Den Haag te ontdekken, variërend van etalages en mini galeries tot pop-uptentoonstellingen zoals deze, op de Veenkade 136 in Den Haag. In het pand met de Nelson Mandela uitspraak op de zijgevel.
Natascha Morsink met (wand)objecten met het thema Soulmates, Lily Wieskamp die verassende opstellingen laat zien van schilderijen gecombineerd met 3d-objecten en Petra Knötschke met hout-improvisaties en met een tijdelijke installatie op de buitenmuur 'naast Nelson Mandela'.
Today you can discover more and more small scale art spaces in The Hague, ranging from shop windows and mini galleries to pop-up exhibitions like this one at Veenkade 136, at the house with the Nelson Mandela quote on the blind side wall.
- (wall)objects entitled Soulmates by Natascha Morsink,
- Lily Wieskamp's innovative installations of paintings combined with 3d objects
- Petra Knötschke's wood improvisations and a temporary installation on the side wall 'next to Mandela'
In Den Haag kann man heutzutage immer mehr kleine Kunsträume entdecken. Sie variieren von Schaufenstern bis Mini-Galerien bis Popup-Ausstellungen wie diese in der Veenkade 136 in Den Haag – im Gebäude mit dem Nelson Mandela Zitat an der Seitenwand.
(Wand-)Objekte zum Thema Soulmates von Natascha Morsink, überraschende Kompositionen von Gemälden und 3D-Objekten von Lily Wieskamp, und Holzimprovisationen und eine zeitweilige Installation an der Aussenwand «neben Nelson Mandela» von Petra Knötschke.