In novemberj 2018 is Petra Knötschke is te zien op de Veenkade 136 met een buiten-installatie op de zijmuur en met onderstaand werk.
www.petrak.nl
petra.knotschke@casema.nl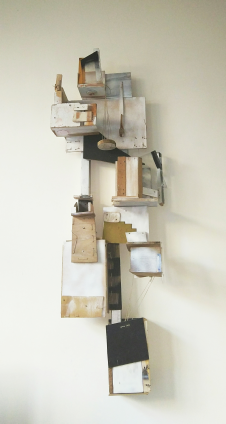 Zwoegen, schuren, schurken en schaven.
Improviseren, met hout en touw en ijzer is kenmerkend voor het werk van Petra Knötschke. Ze maakt objecten om neer te zetten of op te hangen. Of er wordt een groot werk gebouwd als een installatie. Binnen of buiten in een bos of op een muur.
Je ziet het geploeter, gewrik en gepruts van de mens. Het blijven proberen, het zoeken naar een oplossing en het eeuwig falen.
Plodding, sanding and polishing
Improvising with wood, rope and iron is typical for (of) Petra Knötschke's work. She makes objects that can stand alone, or can be hung. Sometimes she creates large installations that can be put inside a building, or outside in a forest, park, or on a wall. But you can always see the plodding, wrenching and messing about of people. Keeping on trying, looking for solutions and always failing.
Schuften, schleifen, reiben, schaben
Die Improvisation mit Holz, Seil und Eisen ist charakteristisch für das Werk von Petra Knötschke. Sie macht Objekte die man hinlegen oder aufhängen kann oder sie baut grosse Installationen – drinnen oder draussen, im Wald oder an einer Wand. Man sieht die Fummelei des Menschen, das Weiterprobieren, das Suchen nach einer Lösung und das ewige Versagen.