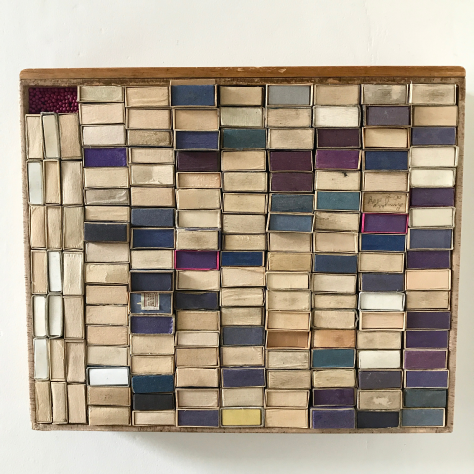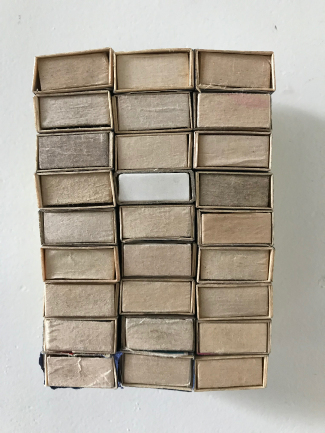 In november 2018 is Natascha Morsink te zien op de Veenkade 136 te Den Haag met onderstaand werk.
www.nataschamorsink.nl
mus@nataschamorsink.nl
Soulmates
Je vindt wat, je krijgt wat, je struint wat af. Het atelier van Natascha Morsink ligt vol met voorwerpen, gevonden, gejut, opgeduikeld, op de kop getikt of gekregen.
Maar ze hebben iets met elkaar, ze vinden elkaar, ze zoeken elkaar op, het zijn Soulmates.
Ze worden net zolang geschikt en herschikt tot er nieuwe abstracties ontstaan. Ze krijgen betekenis en een ander leven op het doek, in een laatje of in een doorzichtige plexiglas bak.
You find something, you get something, you stroll around. Natascha Morsink's studio is packed with objects she collected and found all over the place. All these objects, however, are related to one another, they are soulmates.
She arranges and rearranges those objects until new abstractions come into being. She gives them a new meaning in another life on canvas, in a drawer, or in a transparent plexiglass box.
Man findet etwas, man bekommt etwas, man schlendert ein bisschen. Das Atelier von Natascha Morsink ist voller gefundenen, herumliegenden, aufgetauchten, billig gekauften oder empfangenen Objekten. Aber sie haben eine Beziehung, sie suchen und finden sich gegenseitig, sie sind Seelenverwandte. Sie werden so lange arrangiert und neu geordnet bis neue Abstraktionen entstehen. Sie bekommen einen Sinn und ein neues Leben auf der Leinwand, in einer Schublade oder in einem transparenten Plexiglasbehälter.